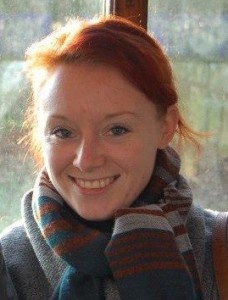 Dr. Emma Nicholson finished her PhD on Philip V of Macedon in Polybios' Histories at Newcastle in December 2015 and is currently teaching in the department. her research interests include Hellenistic history, historiography, epigraphy, leadership, cultural politics, cultural values and interstate relations. Traveller, artist, lover of movies, good food, good beer, and books. find her on Twitter.
How did you come to be interested in your current area of research?
I've been interested in the ancient world since childhood, but came to love Macedonian and Hellenistic history during my BA and my MA. Philip V and Polybios emerged as top for the PhD.
What advice would you have for current UG or early stage PG students?
Start early, work hard, work consistently, but always leave time for yourself!
What book are you currently reading?
Too many!
If you were a biscuit, what sort would you be?
Something chocolatey.
What has been the highlight of your week?
Having an old friend over for the weekend. Lots of food, fun, geek and games!
What is the most important life skill you learnt whilst being a PGR student?
Finding a decent work-life balance and not feeling guilty about taking time off. We worry so much about our work and achievements that we forget to take care of the very instruments (our brains) which get us there!
Do you have favourite hidden gems of Newcastle?
Gorgeous little Café 1901 in Jesmond.
What has been the most significant/memorable moment of your academic career so far?
A four-month research trip to Erlangen, Germany!
What do you enjoy the most about being part of the history, classics and archaeology department at Newcastle?
People are supportive, connected and get involved.
What would your perfect day away from work be?
Either reading/playing games at home all day, or hiking up a mountain somewhere.
What is your favourite movie quote?
"All we have to decide is what to do with the time that is given us" (Gandalf, The Fellowship of the Ring). Ok, it's originally a book quote, but all the same.
What's next for Emma?
New adventures!
Thanks , Emma! We are all behind you all the way, wherever those new adventures may lead you.