by Andrew Marriott (2nd year Archaeology PhD).
It's difficult to proceed down PhD's journey (what else is life these days?) without being reminded that the 21st-century scholar must make an impact. With my research, the North East's First World War Trench Art, I should have something of a head-start. After all, there can be few events that have so profoundly affected the region, while the war's centenary has placed events such as Ypres, Gallipoli and the Somme high in the public consciousness. Exploring one aspect of that conflict's material culture (items used in the prosecution of war and now transformed into artistic souvenirs or agents of commemoration), is stimulating some novel investigative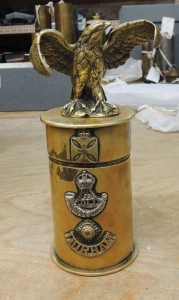 approaches. My research is the first to be conducted through the interrogation of a detailed database of trench art which I am currently constructing. I am also applying an adapted form of an artefact-centred interview, a technique pioneered by Dr Jane Webster, Newcastle University. As I embark on my second year I thought I might share some issues around the idea of research impact.
Tilting at windmills or slaying dragons? The deeper we engage in scholarship the more we are entitled, indeed we have a duty, to challenge received wisdom in our particular academic discipline. Conflict studies in general, and the First World War in particular, is a land of windmills and dragons. In getting to grips with the context of my thesis, I am becoming increasingly aware of changing social agendas and the relativist interpretations of the Great War and its outcomes. Archaeologists love context. For a pot sherd recovered from a stratigraphic layer in a trench, context can be simple to establish. It's a matter of understanding deposition processes and dating cues. However, my 'trench' is the war itself. Its context spans a century populated by academics, politicians, social scientists, poets and artists, all offering their own interpretations of war, its morals and dynamics. I see some of the war's critique, especially that from the 1960's, including Alan Clarke's 'Lions led by donkeys', as a windmill and possibly no longer even deserving of a tilt. But what of the works of Siegfried Sassoon, Wilfred Owen and Robert Graves, or more precisely, interpretations of their writing and how they have been deployed by those with a particular academic or cultural agenda? As I scan the horizon of my work I'm aware that I will need to navigate windmills and be wary of dragons. Why not find impact by slaying the more villainous?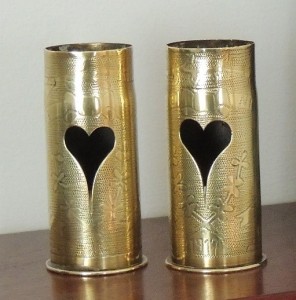 Who wants impact anyway? It is a sad indictment of our times that our society is often careless of its heritage. I am working with a range of museums, libraries, local authorities, charities and community groups, indeed the Beamish Museum is a strategic partner. These bodies are essential in allowing me to establish a critical mass regarding my research data. They will also be important in disseminating my findings, allowing them to be of wider scholarly and social benefit. And yet, even now, one of my key sources, the Durham Light Infantry Museum, is threatened with closure. They need our impact if they are to survive.
And, as a counter to second-year stasis, I am very fortunate in the motivation I can gain from social engagement during research. As well as developing outreach activities, I have already been able, through examination of family-owned pieces of trench art, to establish more secure narratives concerning ancestors who fought in the war and, in one case, resolve for his descendant, the fate and final resting place of one veteran.
As we approach the century of the Battle of the Somme, I already sense a degree of First World War fatigue in some media and public organisations. As the subject's novelty loses some traction, I see an opportunity to establish a more long-term and academically-founded interest in the material culture of the war and how successive generations approach it through its artefacts.
If you are aware of any trench art in the region that retains a family biography, I would be delighted to hear from you. Details can be found here.