One. Create a timetable
One of the best things we did in the lead up to the conference was create a to-do list and a timetable for completion. This really helped us to stay on track, and made sure we didn't forget anything. There are a lot of things to keep in mind when organising a conference and having a well-planned schedule allowed us to stay on track making the whole process a little smoother.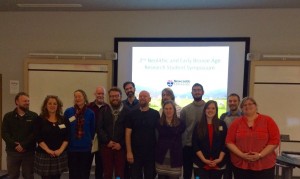 Two. Don't worry if something goes wrong
No matter how organised you think you are, there will always be something you haven't thought about. But it is Ok. Our delegates were a particularly amenable group, but really anyone will appreciate that there are little details that may go wrong (like the microphone in our case!) and that it is not the end of the world.

Three. Acquire some free pens: freebies mean everything!
Of course, they don't, not really, but everyone appreciates a good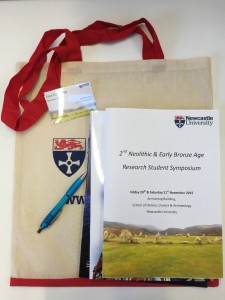 selection of items in their conference packs. It is also a very good way of making contacts within larger organisations and businesses, local or national. It is a good way of obtaining financial support for your conference. The earlier you start this process, the better. You are far more likely to get support if you ask in advance. Organisations often have deadlines for funding, so do your research. Some publishing companies are also really keen to hear what universities are up to. In fact, on account of this our conference report is being printed in 'Past', the Prehistoric Society magazine.

Four. Enjoy the day!
Even though there was a lot of work leading up to the day, and a lot of running around and frantic organising on the day itself, it pays off! Every one of our delegates came up to us at the end of the conference and thanked us for the day for organising it so well. This was of course so thoughtful, but well-received and valuable feedback which made it all worth it!

Five. Don't buy too many biscuits!
Incredulously, there is such a thing as too many biscuits! Don't panic though, they are a welcome, if fleeting, addition to the office… That is until everyone blames you for tempting them.