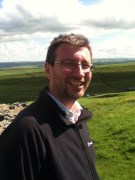 Dr Rob Dale is Lecturer in Russian History, specialising in twentieth-century Russian and Soviet history, especially the late Stalinist period (1945-1953). He studied for a BA in History at York, an MA in History at the School of Slavonic and East European Studies and a PhD in Russian History at QMUL. Find him on twitter @DrRobDale
Which famous historian would you most like to meet for a drink, and why?
I've been lucky enough to meet many of my historiographical heroes for a drink. I'd most like a drink with Elena Zubkova, the historian who almost singlehandedly put the study of late Stalinism back on the map.
What advice would you have for current UG or early stage PG students?
Never ever go anywhere without a book. You never know when your bus breaks down, the person you are meeting will be late, and ten minutes appear when you could read something interesting.
What book are you currently reading?
I'm reading several. Owen Hatherley's Landscapes of Communism, which is introducing me to the architecture of parts of the Communist world I've never visited, and Sheila Fitzpatrick's new book On Stalin's Team: The Years of Living Dangerously in Soviet Politics, which is written with her usual wit, precision and deep understanding.
What is the most important life skill you learnt whilst being a PGR student?
The ability to root out the cheapest flights, rail tickets and hotel rooms, and live off a diet of buckwheat, salted cucumbers, and kefir.
What do you enjoy the most about being part of the history, classics and archaeology department at Newcastle?
Interaction with our students. Having taught in a number of institutions, I think the make-up of our student body generates really fascinating discussions. I love working in the Armstrong building too.
What would your perfect day away from work be?
I'd probably still be reading and working, but in the Russian National Library in Saint-Petersburg. I'd spend the day reading different materials in the different reading rooms, but spend lots of time in the tea room and buffet talking to Russian colleagues.
What's the question you'd most like to have been asked (and why)?
Are you available to keep wicket for England next week? I'm a huge cricket fan, and love keeping wicket.
If given complete freedom to start over, what profession would you like to do and why?
I'd probably want to do something where I could spend more time in the open-air. I like idea of working for the forestry commission in some capacity.
What is your favourite movie quote?
"With great power comes great responsibility." (Peter Parker, Spiderman)
What's next for Rob?
I'm about to start working on an article about the upkeep of soldiers' graves in the late Stalinist period. The material is really exciting, and I think it tells us something important about Soviet War Memory.
Best of luck with the research, Rob. Until next time…!