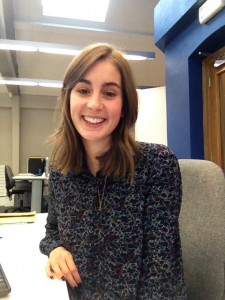 Lauren Emslie, 2nd year PhD student in classics, studying religion and theology in the late Roman republic. She is also currently chair of the PGF and organising AMPAH 2016.

She has a self-defined "slight social-media aversion" (although likes meeting people in person!), so it took a while, but we finally got her to sit down and answer a few questions for us…

1. How did you come to be interested in your current area of research? 
From a young age I was fascinated by 'the Romans'. When I came to university I started learning Latin and from there fell in love with ancient literature.
2. What advice would you have for current UG or early stage PG students?
Keep reading!
3. Can you describe your research in three words?
Religion, Gods, and Cicero

4. What book are you currently reading?

The Secret History, by Donna Tartt
5. What is the most important life skill you learnt whilst being a PGR student?

When to use a backpack for your books.
6.  Do you have favourite hidden gems of Newcastle?

It may not be so secret, but the view down the river from the Free Trade Inn on any day is one of my favourites.
7. What is your favourite movie quote?
"For a special agent, you're not having a very special day, are you?" (Waverly, The Man from U.N.C.L.E. (2015))
Thanks Lauren – see you around here soon!