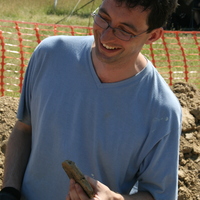 Dr James Gerrard is a lecturer in Roman archaeology here at Newcastle, he studied at Sheffield for his BA in Archaeology and Prehistory, before completing his MA (in Archaeological Research) and PhD (Pottery and the end of Roman Britain: the view from south-western Britain) at York. Check out his project blog: https://blogs.ncl.ac.uk/luftonarchaeology/
After a busy couple of weeks of student inductions, he answered a few questions for us:
1. How did you come to be interested in your current area of research? 
As a child, I was inspired to study the Romans and the end of the Roman period by the novels of Rosemary Sutcliff (Eagle of the Ninth; The Lantern Bearers). I was also lucky enough to grow up in Somerset surrounded by Roman and early medieval sites.
2. What book are you currently reading? 
101 Dalmatians. Seriously. My daughter was reading it and I thought I'd regress to childhood. It's a great story, charming, serious and in places downright ironic.
3. If you were a biscuit, what sort would you be?
A garibaldi (squashed fly) biscuit, or perhaps a ginger nut.
4. What has been the highlight of your week?
Meeting all the new students!
5. What is the most important life skill you learnt whilst being a PGR student?
That life is hard but you can survive its ups and downs.
6. What do you enjoy the most about being part of the history, classics and archaeology department at Newcastle?
It's a great, friendly place with brilliant colleagues and excellent students.
7. What did you want to be as a child? 
An archaeologist
8. Can you describe your research in three words? 
No. Perhaps: End, Roman, Britain
9. What would your perfect day away from work be?
Somewhere wildish – the countryside or coast. It'd need to have no mobile signal and perhaps a nice pub for some food and drink.
10. What is your favourite movie quote?
'Remember, short controlled bursts' (Corporal Hicks in Aliens)
Thanks James!