Orienteering is an outdoor adventure sport which involves navigating around a course on foot by using a detailed map and compass.  The aim is to navigate in sequence between a set of control points, and decide the best route to complete the course in the quickest time.  It does not matter what age or level of fitness you are at, as you can run, jog, or walk the course and progress at your own pace.
Credit: joinOsports
Orienteering takes place in a variety of locations, with courses typically taking you to places that you wouldn't otherwise go to.  Events are held anywhere from remote forest and open moorland to parks, suburban areas and cities.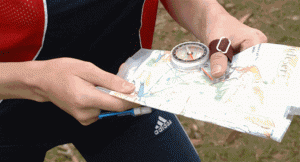 NATO (Newcastle and Tyneside Orienteers) are the local orienteering club, and offer plenty of events in the Newcastle area which the club attend. The other regional clubs are NN (Northern Navigators) and CLOK (Cleveland Orienteering Klub), and the club travels to some of these events.
Map Symbols
Orienteering maps use their own special set of symbols to represent the features and terrain within the mapped area:
As you become familiar with these, you can test yourself to see how many you remember – this is a good way of learning them!
Control Descriptions
An orienteering map also includes detailed descriptions of which features the controls that make up the course are located on. These are written as pictorial symbols in order to give a full description of each control location in a compact form:
Like the map symbols, as familiarity is gained you can test yourself to help with learning them. Good luck!