President – Jack Holmes 👑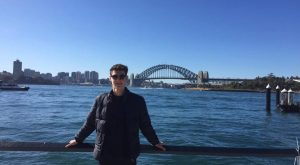 Jack is beginning his third year in the business school. He has made a big committee change from social sec to president. His Scottish culture of kilts and alcohol have become part of the club. You will find him in any pub and in Tiger Tiger every Wednesday and then of course with a kebab at the end of the night. In saying that he is very excited about leading the club in competitions and for boat races 🏆.
Vice President – Shona Haston 🌞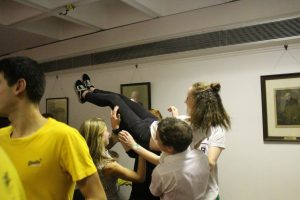 Shona is a third year Mechanical Engineering student and is excited to be continuing on committee after spending last year as XC Captain. She is an experienced middle distance and cross country runner plus occasional high jumper/ discus thrower/ sprinter/ whatever takes her fancy. What she lacks in sense of direction and resistance to injury she makes up for in pub golf ability and is known for never missing a night out (even if it does have a tendency to end in disaster). Shona is looking forward to organising Warm Weather Training this year where she will attempt to raise the (very low) bar she set herself with last year's cooking and diving performances in Portugal.
Secretary – Clara Pettitt 🌸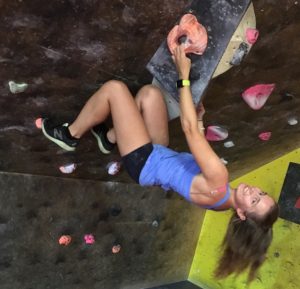 Clara is a veteran to the club being the oldest committee member despite looking the second youngest (beaten closely by baby Sam). Specialising in XC she as been part of the sport for 14 years representing her home county Cheshire. Dropping the triathlon this year, she is sure to be a committed member to training, races and socials and is very much looking forward to her fourth year of Wednesday night fancy dress. Her monthly emails are sure to brighten your day alongside multiple posts about the hopefully fabulous kit.
Treasurer – James Whitmore 🍻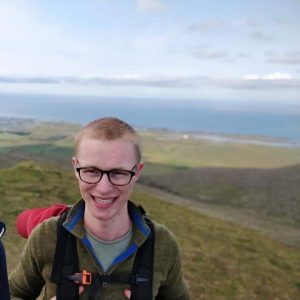 James is backing himself and the skills he has picked up in the last two years studying maths to help him be an effective treasurer this year. Admittedly one of the more casual members of cross country, he enjoys the so-called 'easy runs' (which he doesn't find that easy) and the occasional track session. However he got stuck in last year and signed up for every race outside of Newcastle and, some think mistakenly, went to the yearly training in  Portugal. This year he plans to do the same races having done more training on the track and at socials.
XC Captain – Sean Haycock 🍕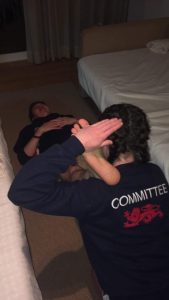 Sean is a 3rd year Biochemistry student with over 10 years running experience (not that you'd be able to tell). Known for moaning and always trying to skip a session, he is a prime example for any athlete. With the diet of a darts player he is a champion sprinter. You'll often see him sat at the side of the track having an asthma attack or nursing an injury (but will be fine 15 minutes later when running to the pub).
XC Captain – Aoife Smith ⚡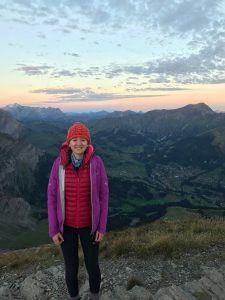 Aoife is a 2nd year biomedical student from just across the river in Gateshead. She is looking forwards to being xc captain this year, having a fantastic season and gaining back all the fitness she has lost over the summer. She has 9 years of running experience doing cross country, fell races and track. Enjoys the after training pints just as much as the training, even if tipsy after just one and should not be allowed to drink wine. (Don't worry if you can't pronounce her name, no one ever can).
Athletics Captain – Georgia McMillan 🍍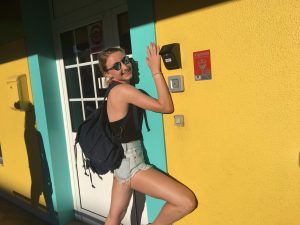 Georgia is going into her third year at Newcastle University, studying Biology and Psychology. She is very much looking forward to leading NUAXC through a successful year as your captain. She's an 800m runner, but does occasionally enjoy Cross Country races. Georgia is powered by Nutella and hard boiled eggs (some say she has strange eating habits). If she's not speeding around the track you'll probably find her jamming to Afroman in the kitchen with some spicy dance moves.
Athletics Captain – Hannah Malpass 🏃🏼‍♀️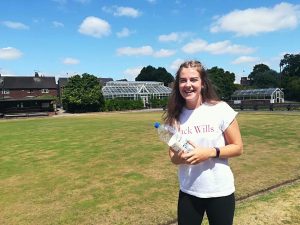 Hannah is a second year student studying agri-business at Newcastle University. Competing in the 200m and 400m she has trained in the sport for 8 years, representing Staffordshire, West Midlands and the Midlands at National championships – not that anyone knows the Midlands exist when you come to the North. Hannah loves chocolate, soppy romantic films and crazy (but very weird) nights in Flares after a tactical chunder. She is looking forward to leading the athletics this year to an amazing season, zooming around the track and for the interesting Wednesday night costumes to reappear.
Welfare Officer – Alice Barrett ⭐
Alice is (v reluctantly) going into her final year at Newcastle studying history. She competed in athletics throughout her school years, representing the mighty Devon in the 300m hurdles, but recently has had a bit of trouble with the ol' injuries and is sticking to 400m training. Alice loves the sea, cheesy chips and having a good dance ("she shows more energy on the dance floor than she ever has on the track" – Bradley Wilsher). She is very excited to be welfare officer this year for the wonderful NUAXC. She warns southerners that this photo is an accurate representation of Newcastle's climate.
Social Secretary – Sam Hansen 😎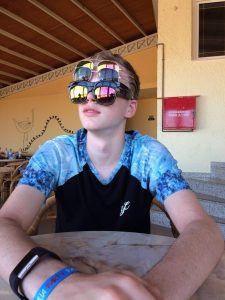 Sam is a second year student in the business school. However, you've got more chance of finding him in the Hancock than the library. Sam is known for his abundance of facial hair, how quickly he can down pints and his ability to memorise Gordon Ramsay quotes. But he's not perfect, his weaknesses include cooking and cartons of wine, both of which were discovered during warm weather training in Portugal. He is a very experienced cross country runner having represented his home county of Surrey and is looking forward to the away events this year (mainly the socials afterwards rather than the running).